Ladies Day is back for the 23rd June 10:30am. This year the event is bigger and better and surely won't disappoint. So calling all Ladies, Mums, Grandmas, Daughters, Sisters... come and treat yourself and be pampered with the great stalls and gifts available on the day. It is open to the community and anyone wishing to attend. Details below.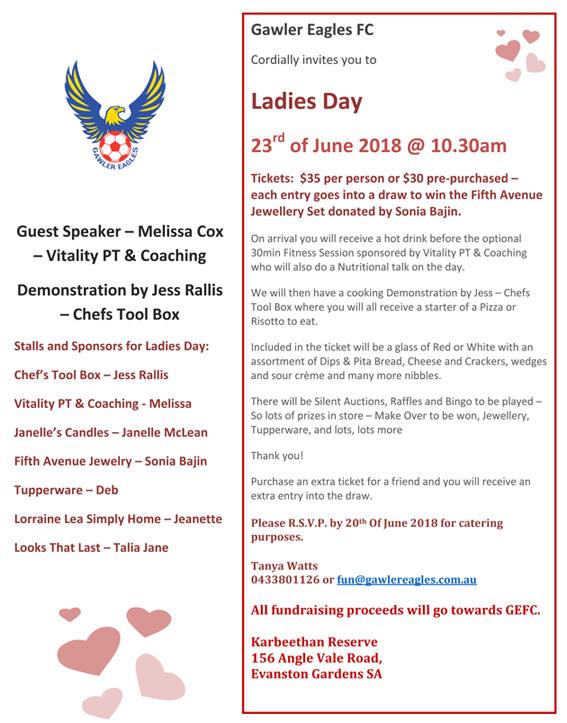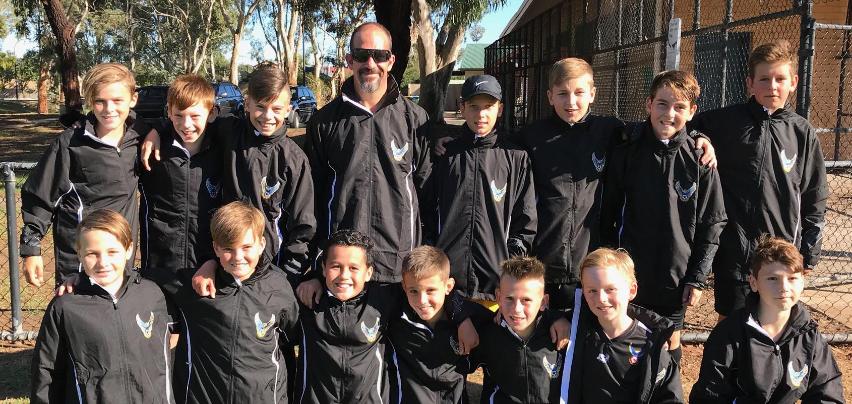 The Gawler Eagles U12s are still alive in the Junior Premier League Federation Cup. This Sunday (June 17th) they play for a spot in the quarter finals and they need all the support they can get. It's a pretty big deal for these great kids so come along and watch them do Gawler proud this Sunday at Karbeethan Reserve. Kick off is at midday. GO EAGLES!
The June long weekend is a catch-up round for Gawler Eagles FC as the Seniors play host to top-of-the-ladder Vipers FC at Karbeethan Reserve on Sunday at 3pm. The Under 18s at 11am and Reserves at 1pm. Come along and support the lads in this pivotal clash. The Senior team drew 1-1 with Northern Demons last Thursday night. Despite the drizzly conditions the lads showed good signs for the business part of the season and are keen to take on their next challenge on Sunday. See you there!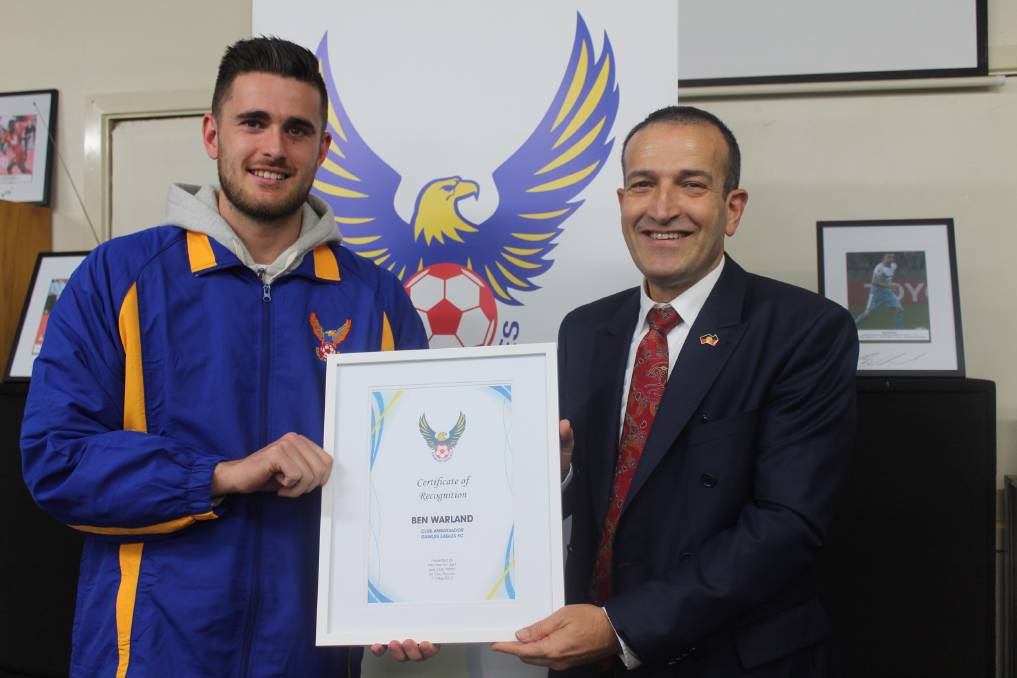 Light MP and Gawler Eagles FC patron Tony Piccolo presents Sydney F.C defender Ben Warland with his Certificate of Recognition as Club Ambassador from Gawler Eagles. Click on the photo for the story...
After an impressive 3-1 victory over Eastern United, the GEFC 1st Team take on Northern Demons for a Round 8 catch up game this Thursday, 7th June. The lads will be looking to secure another 3 points and look to make strides up the SL2 ladder. Kick off is at 8pm. Meals will be available from 6:30pm. $12 Dinner will get you lasagne, chips, garlic bread and salad. So why not come and enjoy a great meal before the game and then head out to watch what will be a action packed contest. You may even see a few back flips by high flying Eagle Iradi Baragomwa. #GEFC_2018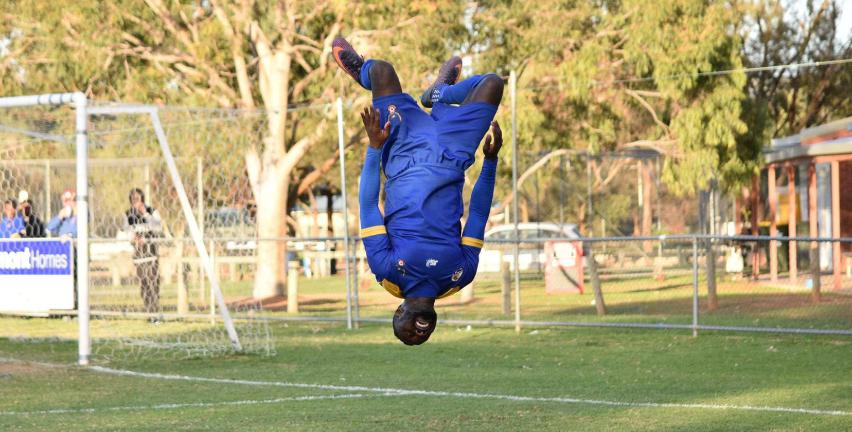 ROUND 14 ACTION
Gawler Eagles Seniors play at home at Karbeethan Reserve on Saturday against Eastern Park. Come along and support the boys. Kick off is at 3pm. Reserves 1pm. Under 18s 11am. Full canteen facilities available. Meanwhile our undefeated Womens team travels on the road on Sunday to Mount Baker United. Kick off at 10am. Our Under 15s girls play 8pm Friday night at Modbury Vista. Good luck everyone. Go Eagles!
After a 9-1 trouncing of Modbury Vista last weekend (well done, lads) the Senior team trains tonight at Karbeethan Reserve. The Women's team is also training hard to carry on their undefeated form. Don't forget, Sydney FC defender and Gawler Eagles junior BEN WARLAND is also visiting us from 6.30. Bring the kids and grab a photo! All welcome! Tonight's Gawler Eagles restaurant special is JOE'S BAKED POTATOES. They're worth a shot.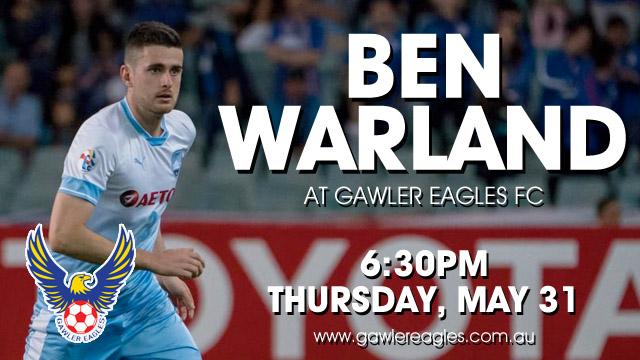 ROUND 13 ACTION
Gawler Eagles FC takes to the road this Saturday with the Seniors (3pm), Reserves (1pm) and U18 teams (11am) traveling to Modbury Vista. After last week's loss the lads will be keen to make amends. On Sunday the Women's team travel to Glenunga to play Old Ignations from 11am. The U15 girls play at home against Cumberland United and are keen for a tight contest.
RILEY McGREE ANNOUNCED CLUB AMBASSADOR

Gawler Eagles FC is proud to announce Riley McGree as its inaugural Club Ambassador. Riley started his football careeer at Gawler Eagles FC at the tender age of 4 and progressed through our junior ranks for an impressive 10 years before joining FFSA's National Training Centre. McGree made his debut for Adelaide United in the A-League on 19 March 2016. Mcgree scored his first goal in the Asian Champions League in a 3-1 win over Jeju United on 11 April 2017. After impressing at Adelaide United, including being called up for the Australian national team, McGree left the A-League in July 2017 to join Belgian club Club Brugge. On 19 December 2017, Rileyjoined the Newcastle Jets on a short term loan deal for the remainder of the 2017–18 A-League season. In this season's A-League semi-finals, McGree became the subject of international attention after scoring with a scorpion kick (prompting calls for the FIFA Puskas Award for the most beautiful goal in the world that year), earning the Jets a spot in the A-League grand final.
Riley McGree was a special guest of honour at a civic reception at the Town Of Gawler where he was presented with a special "Club Ambassador" certificate from Gawler Mayor and Gawler Eagles FC patron MsKaren Redman.
Photo 1: Riley with Acting Principal for Xavier College Mr Mark Flaherty, and Mr Rob Polito, Assistant Principal Pastoral Care and Mr Adam Lewis , House Director Pastoral Care.. Photo 2: Riley with Gawler Eagles committee members Basil Mondello, Peter Broelman, Tracey Shepherd, Acting President Ivan Garrard and Peter Bermoser. Photo 3: Riley with Town Of Gawler CEO Henry Inat. Photo 4: Riley with his father David. Photo 5: Riley with Town Of Gawler Mayor Ms Karen Redman.
STARPLEX JOINS GAWLER EAGLES FC

We are excited to announce that Starplex has thrown its support behind Gawler Eagles FC and all the players who represent the Gawler community. Teaming up with Starplex is a positive move for the club and we look forward to promoting fitness, wellness and performance across Gawler. Click on the Starplex logo to check out what's happening at the biggest multi-sports facility in the Northern suburbs.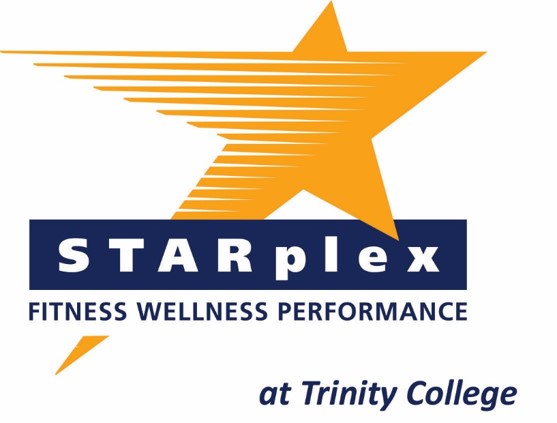 ROUND 12 ACTION
It's another big weekend at Gawler Eagles FC this Saturday and Sunday. The Seniors, Reserves and Under18s play host to Vipers FC at Karbeethan Reserve. Come along and support the team proudly representing Gawler. The Seniors kick off at 3pm, Resevres at 1pm and Under 18s at 11am.
On Sunday our undefeated women's team takes on Salisbury Inter at 10am followed by the Under 15 Girls up against Cove Marion at 12:15pm. Go Eagles!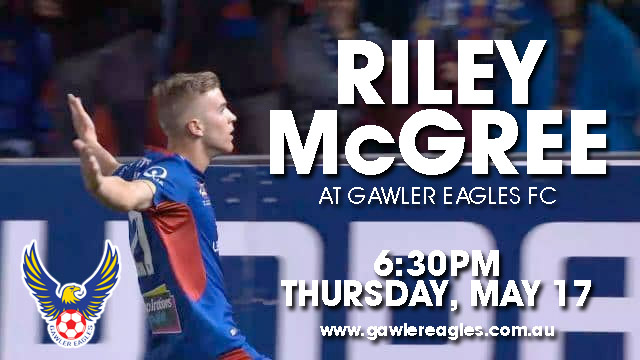 It's Round 11 and the halfway mark of the season. The Gawler Eagles are 4 wins and 4 losses so far to hover around the middle of the State League 2 ladder. They'll be looking to finding form in the second half of the season starting tomorrow. With one game in hand the Eagles can start the climb up that ladder. Gawler Eagles FC plays at home at Karbeethan Reserve this Saturday against second placed Adelaide Hills (7 - 2). Come along and see the lads in action. Under 18s kick off at 11am, Reserves at 1pm and Seniors at 3pm. Full canteen facilities available. The Womens team and under age girls have a bye this weekend.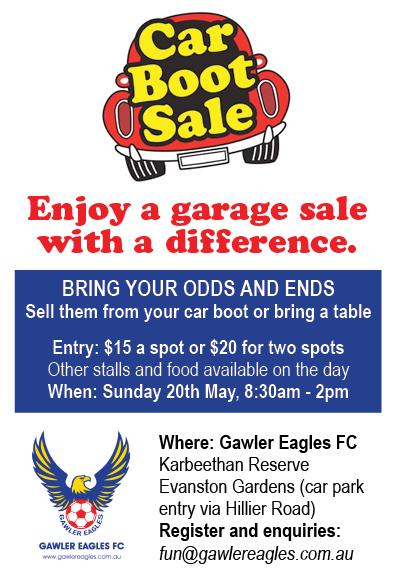 GAWLER EAGLES PATRONS
Gawler Eagles FC is proud to announce that the Mayor of Gawler, Karen Redmond, and Member for Light, Tony Piccolo, will be Co-Patrons of the club. It's a very exciting time for Gawler Eagles and we are thankful for their support as the club moves forward.
ROUND 10 ACTION
It's away to Adelaide University FC this Saturday. It's a big challenge for the Gawler Eagles as five changes have been made to the senior team to take on the Unis at University Oval at 3pm. Come along and support the lads. The Reserves kick off at 1pm while the Under18s, under new coach Adrian Drosd, kick off at 11am.

It's Round 6 for the girls. On Sunday the Gawler Women's team make the waterbag trip to Hahndorf to play the Hahndorf Magpies at 10am. Meanwhile the Under 15 girls travel to Salisbury Inter at Underdown Park from 11.30am kickoff. Good luck, girls! Let's do Gawler proud!
LIGHTS... CAMERA... ACTION!
FoxSports is heading to Gawler Eagles FC Wednesday 2nd May to run a profile on a player that commenced his footballing career at Gawler Eagles. FoxSports will be filming the article on Riley McGree and his start in football and his career to date.
All Gawler Eagles Junior players are welcome to come down in their Eagles colours and be part of the filming with FoxSports. It will be televised during the A-League Grand Final game. Shooting starts at 5pm until 6pm at the Gawler Eagles FC clubrooms. Everyone welcome!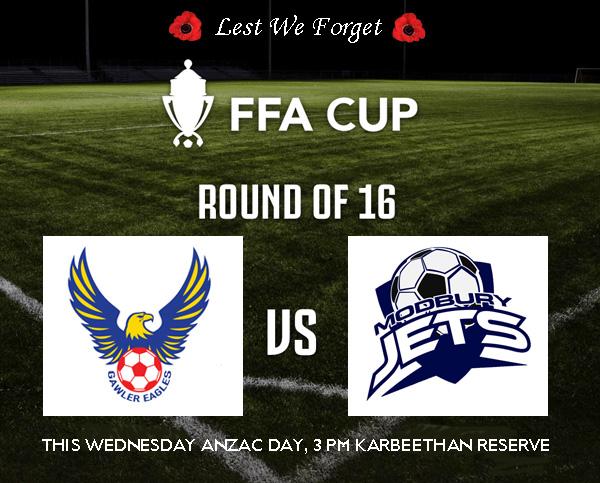 ROUND 7 ACTION
It's another packed weekend at Gawler Eagles FC's home ground. The GEFC senior mens team is up against Mount Barker United from 3pm. The Reserves kick off at 1pm while the Under 18s start the day with an 11am start. Sunday and the Womens team take on Andrews Farm from 10am followed by our Under 15s Girls vs Adelaide Comets at 12.15pm.

Full canteen facilities are available. See you at Karbeethan Reserve this weekend! Go Eagles!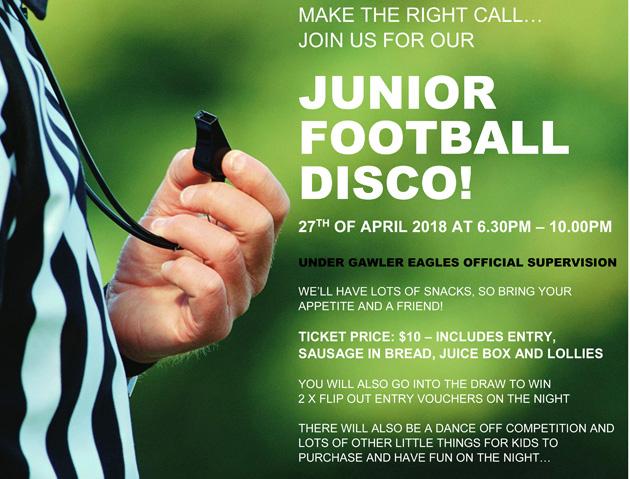 ROUND 6 ACTION
Make sure you get down to Karbeethan Reserve this Saturday 14th April to support the GESC 1st Team as they take on Adelaide Hills Hawks for a 3pm kick off. Under 18s and Reserves also compete in the Federation Cup against the Hawks for a 10am and 12.15am start respectively. It will be a big day for the club and players so get down and support the lads! Full canteen available too.
Sunday is also a busy day for the junior grades. On the front pitch we have U6s (9am), U7s (9am), U8s (9.35am), U9s (10am), U10s (11.20am) and U11s (12.30pm). Our Junior Premier League teams play on the main pitch commencing with the U13 JPL Cup Game at 8.45am, U12 JPL Cup Game at 10.30am followed by our U15 Girls Cup game at 12.15pm. Good luck to all our great teams. Our Women's team is playing a Cup game away against Mercedes Old Collegians at 10am at Waite Oval. Good luck, girls!

UNDER 18 COACH APPOINTMENT
Gawler Eagles FC is proud to announce Joe Ridenti has been appointed Under 18s coach. Joe will be assisted by Frank Ielasi. We wish them well for the rest of the 2018 season.

NEW SPONSORS JOIN GAWLER EAGLES FC
Gawler Eagles FC is excited to welcome underage sponsors BJ Smith Electrical & Airconditioning, King Constructions, Pizza Works and SA Structural. A big thank you! Check them out online via our sponsors page.

THURSDAY NIGHT SPECIAL
The Thursday night BBQ was a huge success. Many thanks to all the parents, juniors and senior players who came along to the clubrooms after training and enjoyed a meal and a drink and a special thank you to all the volunteers who worked tirelessly to put it all together. Stay tuned for the next Thursday Night Special and remember all funds raised goes straight to your Gawler Eagles.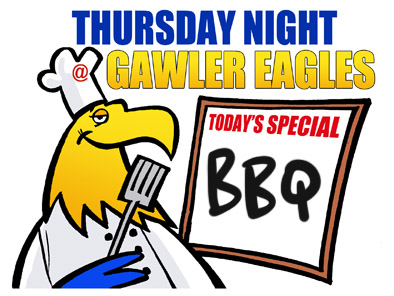 The chef's special this Thursday Night @ Gawler Eagles is... BBQ!
Come along for MasterChef Joe's special $10 BBQ with chips and salad. All proceeds to your Gawler Eagles.

MATTHEW HICKMAN
Under 18s player, Matthew Hickman, sustained a very serious ankle injury during the U18s game on Sunday morning and has had surgery today. From everyone at the GEFC we wish Matt a speedy recovery and hope to see him back on his feet and back out supporting his team and club soon.
ROUND 5 ACTION
Gawler Eagles FC plays at home at Karbeethan Reserve this Saturday. Come along and show your support for the Senior lads and coaches. U18s kick off at 11am, Reserves at 1pm and Seniors at 3pm
We are trying to get as many junior teams out supporting as well as playing at half times and senior mascots. Our amateur league team is also playing a trial game on the back pitch at 11.30am.

It'll be a full day of soccer. The clubrooms and canteen will be open. Heaps of carparking. Pop in and say g'day and watch a great game or two. See you there! Go Eagles!

© Copyright Gawler Eagles